Whooooo Happy Christmas everyone!! Mm-kay, I have lots to ramble about, and I'm on my third cup of coffee this morning, so this could go on a bit (and may make no sense :s)
So how was everyone's christmas?! Mine was super cool!! ^.^ As is tradition, we woke up at some ridiculous time like 6:30 (me, beth and jen go back to being like 4 year olds on christmas morning ^.^), and plus we have to get started early to get presents opened before church. I got loads of cool pressies :p I'd already opened my one's from most of my friends when we swapped them at Hannah's on tuesday, but I still had Mel's to open (Gravitation vol, 1+2 - only read 1 so far but I love it!!). Jen also got me a good manga (Mahoromatic - so cute! ^.^)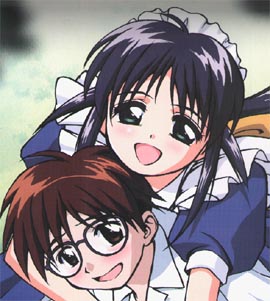 <<< I love Mahoro!!)
Beth got me A copy of my favourite book, which nearly made me cry!! (Guess How Much I Love You)
And I got lots of other cool stuff, including gift vouchers (bring on january sales!) and a Tv+DvD player for me room! 0_0 Which meant I could stay up last night and watch Queer as Folk series 2! :D I Love QaF so much, I think i'm gunna re-watch series 1 tonight ^.^ I turned out just how I wanted it to in the end - Vince + Stu 2etha4eva!!!!! I have to get the US version now (just to see if it's as good as the UK series!)
Yeah, so we opened presents, and then we went to church, which was nice because I havm't been for ages, and it's always really happy on christmas morning :D and then we came home and had CHRISTMAS DINNER (in capitals because it is actually the best meal of the year. fin.) And then we slept for ages (as is also tradition after christmas dinner). And then I watched Tv. And because I am sad, I am going to have a TV ramble now.
Strictly Come Dancing Christmas Special.

Ok, I don't care how sad you think I am, I love this program!!! I've been obsessivly watching the latest series, I was really looking forward to this! I'm annoyed Louisa didn't win though :( I really think she should've won the series, and I thought she was best in this as well. Her dance was so cute!! It was really fun. I always prefer the fun latin ones to the boring ballroom ones anyway. I think Colin Jackson should've done a latin one with the big impressive jump he did in the competition (last year??) Oh, and Bruno = LOVE. He is the best person on the whole show!!)

Dr Who.

Was ok, but nowhere near as good as last years. I just didn't really see the point of the story for most of it. I only really liked the bits where they were sat talking about rose (bring back roooooosssee!! :( ) Possibly the worst Dr Who episode I've ver seen, which deosn't nessesarily make it reaaally bad (I've only watched the latest series and have LOVED all of it), just not as good as the others. I'm glad Catherine Tate isn't the new assistant. She annoyed me.)

Vicar of Dibley.

Haha I love this show!! Ijust had to put this in because It made me laugh so much, and it had Guy of Gisborne from Robin Hood in 0.0.
I got so excited when he asked Geraldine to marry him, I was like "FUCK YES!! GO GERALDINE!" (yeah, I tend to get over excited quite easily!) I can't wait for the wedding!!

Ok I think I'm done rambling now. Can't wait for Tim's new year party, and for my birthday, and for January sales!! :D
Hope you're having good holidays!!!